48. Soul (Oracle de la triade) - Detachment
Home / Oracle de la Triade Card Meanings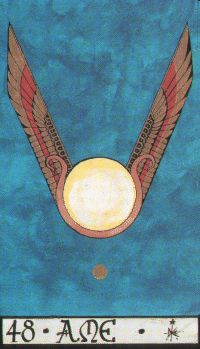 The card urges us to rise above the situation, to see things in perspective.
A global vision and spirituality are important in our actions.
Personality: A free spirit, with an absolute ideal. The person likes to travel, likes adventure and seeks enriching experiences that makes life rewarding. A person who is gifted and who feels satisfied with life. A calm temperament, a good person that would think of others too. The person is a good listener, and others seek him or her because they feel understood and accepted. Spirituality is important and there is a fascination with the occult and the paranormal. The person may have Deja Vu - experiences and premonitions.
Love and relationships: The relationship with another is rooted in intellectual exchanges. The relationship may be platonic, but the sentiments are sincere and deep. You should take a step back from an emotional situation to analyze it and your feelings.
Money: You are not interested in money. This disinterest can cause some difficulty because you just need some discipline to get your finances in order. Despite this, the card announces a general improvement regarding your finances. A good time for relevant financial negotiations.
Profession and work situation: The card does not correspond to any profession. The person wants to develop to improve their working conditions because of convenience, but also efficiency. The support of others is welcomed and can benefit you. A good time to demand assistance, higher salary, a promotion, reassignment. Everything is possible.
Personal or spiritual development: You cling to your spiritual values. A deep faith. You need to calm down to find yourself again. You need peace and quiet, solitude to meditate to find answers to important questions and concerns, which can be of any kind, including spiritual ones.
Keywords: Spirituality. Heart. Self. Goodness. Liberation. Soul. Sanguine system. Freedom. Letting go. Detachment. Seeing the big picture.
---
Soul in combination with other cards:
2 Isolation: A crisis of spiritual nature.
3 Delta: spiritual quest.
4 Lie: Hypocrisy or bad advice
6 Rot: Deep faith.
11 Temptation: a devastating passion.
13 Penance: karmic debt
14 Man: protective man.
15 Love: platonic relationship, emotions idealized.
18 Science: you should talk to a psychologist or analyst.
23 Peace: Peace of mind, or mental peace
25 Woman: protective woman.
26 Ordeal: Your faith is tested. Handling a situation that in fact should better be avoided.
27 Doubt: mental confusion, loss of faith
29 Elevation: Intuition
33 Birth: openness to spirituality.
34 Initiation: initiation into occult practices.
36 Travel: out-of-body - experiences
38 Weapon: internal conflict that goes back to childhood.
40 Suffering: serious mental disorders
41 Justice: the questioner has the gift of healing
47 Eternity: striving for a higher ideal.
49 Opponent: Nightmares, dark occult practices.
53 Meditation: interest in Eastern philosophy.
54 Death: high sensitivity and good intuition.

---