19. Prayer (Oracle de la triade) - Hope
Home / Oracle de la Triade Card Meanings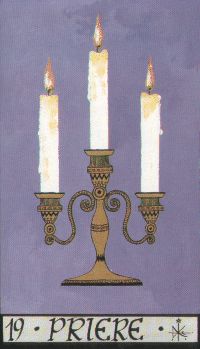 The dark blue background associated with spirituality. A candlestick with three burning candles reminiscent of death and rebirth.
The number 19 is associated with mutual solidarity (9) and that it has been established (10). The card is associated with wishes, hopes, spirituality and a general improvement in life.
Personality: An emotional person, innocent, quiet, calm temperament. We can trust such a person. He or she is caring with everyone and everything.
Love and relationships: Sincere complete love, spiritual love or love ideas inspired by spirituality. Idealization of love in some cases, and thus a more fraternal love or platonic love.
Money: The economic situation is normal; the money is there but not in abundance.
Profession and work situation: Jobs associated with are ecclesiastical careers. Prayer can however in certain cases and with certain cards symbolize a desire for better salary or possibly a better position, a promotion. The person can thus either start working more or may require it from the boss.
Personal or spiritual development: The person is trying to have a conversation with and an interaction with higher powers.
Keywords: Contemplation. Prayer. Priesthood. Church. Religion. Being religious. The neck. Cervical vertebrae. Knee. Menisci.
---
Prayer in combination with other cards:
2 Isolation: A need of solitude.
13 Penance: Failure.
27 Doubt: Loss of faith, depression.
40 Suffering: Can symbolize someone's death.
42 Desert: Frustration, misunderstanding with friends.
44 Lightning: A bad situation ends.
46 Sacrifice: Big devotion.
54 Death: A bad situation ends.
57 Omega: A phase of life or a chapter of life ends, and it is time to go on.
---