39. Message (Oracle de la triade) - Communication
Home / Oracle de la Triade Card Meanings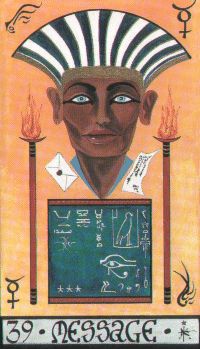 The card is about communication, messaging, international contacts, insights, intuition, and hunches.
Personality: A sensitive, good person, happy to help anyone out. He or she is imaginative, creative, inspired, loves to read and write.
Love: Mutual trust in relationships. If you are single, you may meet someone through work or you meet a person who frequently travels abroad.
Money: In general, good finances. A cash flow can occur.
Profession and work situation: Communication Occupations: post office, telecommunications, television, radio. You can play the role of the mediator in a team and can be an excellent communicator. Someone hopes for change at the workplace.
Keywords: NEWS. LETTER. PROJECT. DISCUSSION. LISTENING. UNDERSTANDING. Intelligence. Lungs. Respiration.
Personal or spiritual development: Clairvoyance. Seeking and receiving answers. Premonitions.
---
Message in combination with other cards:
1 Alpha: A new friendship
2 Isolation: No news soon, you might have to wait a little longer.
3 Delta: intuition and hunches.
5 Water: News from abroad.
8 Nadir: Bad news concerning your job.
10 Success: Good news regarding work
11 Temptation: Communication or phone conversation with a lover.
12 Seal: Contract
26 Ordeal: poor communication and misunderstandings
28 Protection: Someone supports and defends the consultant
33 Birth: News about childbirth.
35 Necessity: broken contacts or relationships.
36 Travel: Email / SMS from abroad.
38 Weapon: bad news from solicitors or lawyers.
40 Suffering: A relative is very ill, possible death
45 Time: It takes time until something new occurs.
50 Papyrus: The gift of writing
54 Death: news of a death
55 Fusion: News about a wedding.
56 Brother: News from a loved one.
---