44. Lightning (Oracle de la triade) - Unexpected problems
Home / Oracle de la Triade Card Meanings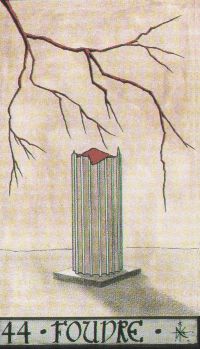 This card is karmic because number 8 is present (4+4).
With Lightning, new lessons come through disasters that create unexpected problems in one's life.
The card does remind us of the Tower in the tarot, build upon the idea of the Tower of Babel. Something unexpected happens, something breaks down.
Personality: Lightning represents a strong person, sometimes angry, and often dissatisfied. The person will live a chaotic life before he or she learns to channel all energy into something constructive.
Love and relationships: Can symbolize violence in relationships. A partner is authoritarian and if he or she does not change the situation will deteriorate.
Money: The card symbolizes enormous financial problems. The questioner can spend their money in a careless way and is now at the edge of the abyss. Be careful and reflect.
Profession and work situation: The professional situation isn't very good, and your position is threatened. Past mistakes can now lead to consequences. You should examine your heart.
Personal or spiritual development: There has been chaos in the questioner's mind. One does not know what to do. Helplessness.
Keywords: Chaos. Destruction. Revelation. Spinal cord. Head.
---
Lightning in combination with other cards:
1 Alpha: a new beginning.
2 Isolation: expulsion, evacuation.
4 Lie: Loss of credibility because friends and family gossip.
6 Rot: disharmony in the family
8 Nadir: total failure
9 Wisdom: sudden insight
11 Temptation: relationship ends
13 Penance: Illness or accident.
16 Mutation: routines are disrupted.
17 Energy: Tension and stress
22 Choice: a project goes wrong
24 Wealth: Lucky in games.
29 Elevation: An unexpected development.
33 Birth: A new start on a new basis.
35 Necessity: a relationship ends, a relationship breaks down.
36 Travel: Moving when you least expect, unexpected move.
38 Weapon: strife and conflict.
40 Suffering: Problems with stress and tension.
42 Desert: You become happy in vain; or for nothing
45 Time: It will take time before the situation recovers.
53 Meditation: enlightenment.
54 Death: death around the questioner or thoughts of death.
55 Fusion: New relationship
56 Brother: New friendship or relationship.
---