37. Light (Oracle de la triade) - Clarity
Home / Oracle de la Triade Card Meanings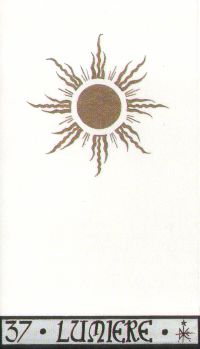 This card is about positive things and is the opposite of the very dark colored card Nadir (8).
The Light card removes usually the negative meanings of the cards around it and have thus a positive meaning, regardless of the question asked or what other cards foretell.
This card reduces thus significantly the negative influences and consolidates the positive ones.
Personality: An honest person, mature, clear, cultivated, curious about everything and an art amateur. Because he or she cares about appearances, this can lead to egoism. The person is charismatic and likes to have fun with friends. Because he or she combines charm and authority, the person will get their way.
Love: Luck in love and relationships. The sentiments are sincere and deep. Harmony arises in relationships of all kinds, including love relationships. If you meet a new person, the relationship will develop in a positive direction.
Money: The economic situation looks good, and investments are successful. Money abounds. Renewed energy.
Profession and work situation: You get recognition for your job and everyone sees your true value. You will be respected and inspire confidence. Your work or contribution is requested by others and is valuable. Colleagues look up to you and you become other's role model. A high position or more responsibility offered. The card informs in some cases that you will be known or become famous.
Personal or spiritual development: The person has good contact with spiritual values ​​and the spiritual world. His or her faith is flawless. Great wisdom. Clairvoyance and premonitions. Several signs and meaningful coincidences create insight and clarity.
Keywords: Enlightenment. Illumination. Brightness. Celebrity. Comedian. Important job. Vision. Truth. Clarity. Heart. Head.
---
Light in combination with other cards:
2 Isolation: Doubt and fear are examined.
3 Delta: You achieve your highest ambitions.
8 Nadir: Problems will be completely solved.
10 Success: Recognition.
12 Seal: signing a lucrative contract
24 Wealth: A flow of money, better pay, benefits.
26 Ordeal: Despite all the problems, the result is positive.
27 Doubt: Doubt and fear are eliminated.
28 Protection: important help on the job.
38 Weapon: Earnings in disputes and lawsuits.
39 Message: Contact with a very old or very famous person.
40 Suffering: healing and forgiveness.
44 Lightning: revelation, or a brilliant idea
45 Time: a long period of glory.
47 Eternity: a celebrity.
49 Opponent: finding solutions to problems
53 Meditation: Meditation can help.
54 Death: a positive transformation
55 Fusion: marriage or association.

---