32. Illusion (Oracle de la triade) - Make believe
Home / Oracle de la Triade Card Meanings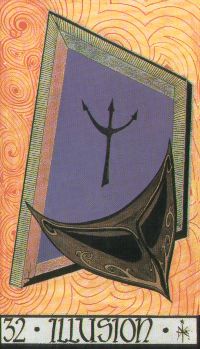 The symbol on the blue background is the symbol of planet Neptune, associated with fraud and lies, which usually creates disappointment in our lives as a result.
The Italian mask reminds us that we should look beyond the surface, because appearances might be deceiving.
You have probably been scammed by someone who hides his or her true nature behind a mask and isn't the one he or she claims to be.
Personality: A dual personality, sometimes imaginative, but that tends to build sandcastles. Social relationships do not work so well because the person is unstable, capricious and indecisive. The person may be gifted, artistic, could paint or can succeed as an actor in theater, film or comedy.
Love and relationships: The card usually symbolize betrayal in relationships. The relationship between two people is very complex. There may be a parallel relationship. Without dialogue, no improvement is possible.
Money: The economic situation is bad. Debts may increase because financial matters don't receive enough attention. Lost money can probably not be recovered.
Profession and work situation: The card Illusion is associated with artistic professions - theater, comedy, and film. The card can indeed mean that you are making the wrong career choices and work with something you have no interest in. Along with negative cards Illusion indicates in most cases a time of unemployment.
Personal or spiritual development: Being on the wrong spiritual path, one is invaded with feelings. The card can also be associated with delirium.
Keywords: Hypocrisy. Fantasy. Delusion. Drug. Alcohol. Heavy rain. Bad smell. Conflicting stories. Mystery. Actors. Hollywood. Inundation. Appearance. Neurosis. Brain. Blood. Sleep. Unconscious. Unaware. Amnesia.
---
Illusion in combination with other cards:
2 Isolation: paranoid trends, manic depressive
3 Delta: visions, hallucinations.
5 Water: a creative mind
6 Rot: disappointment in the past.
8 Nadir: morbid tendencies, self-destruction
9 Wisdom: one should avoid one's own lies and deceitful people.
10 Success: Transactions with the world of art.
11 Temptation: Impostor, ghosting someone.
12 Seal: Business with art or the artistic field.
13 Penance: paranoia, self-destruction
15 Love: An inaccessible fantasy love.
20 Error: paranoia
38 Weapon: Personality disorder.
40 Suffering: Problems with drug or alcohol abuse.
44 Lightning: visions or hallucinations
46 Sacrifice: Thoughts of suicide, hopelessness
49 Opponent: Mental illness, mental disorder, or schizophrenia.
54. Death: suicide by drug overdose. Confusion about cause of death.
56 Brother: personality disorders, duality.

---