55. Fusion (Oracle de la triade) - Connection
Home / Oracle de la Triade Card Meanings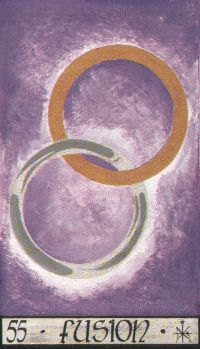 The card is about a union between two people, including a marriage.
This is also a card of contracts and agreements.
Personality: A person for whom the family is most important. The person needs harmony with the surrounding environment and with loved ones. Despite that, the person has quite a strong personality, cares about everyone else, including people that do not care.
Love and Relationships: Happy relationships, the couple wants a child. If you are single, you can initiate a new relationship that may lead to a steady relationship. A meeting with someone, a discussion between two people.
Money: Balanced financial situation but based on cooperation and exchange. The card may for example suggest that a company is built on someone else's property, or that the company has two different owners. Whatever the personal situation, you can expect economic progress.
Profession and work situation: The card represents occupations that are related to companies, organizations, groups working together. You want to work in groups. You can get a new job that you have applied for, or you get a promotion.
Personal or spiritual development: The card indicates that you feel connected to superior forces and want to talk to others about your spiritual quest.
Keywords: Union. Gathering. Assembly. Association. Meeting. Wedding. Marriage. Genital organs. Digestion.
---
Fusion in combination with other cards:
2 Isolation: bad relationships in general.
3 Delta: marriage in the future.
6 Rot: a family reunion.
12 Seal: fruitful partnerships and good cooperation.
14 Man: a meeting with a man will prove important or significant.
15 Love: an upcoming wedding in the future.
25 Woman: a meeting with a woman will play a certain role.
26 Ordeal: a fruitful association, but problems in a serious relationship or in love life.
36 Travel: union with a stranger or a professional partnership with someone living abroad.
38 Weapon: Separation or divorce.
40 Suffering: a relationship ends.
44 Lightning: you meet a new interesting man or woman.
47 Eternity: long lasting balanced relationship.
50 Papyrus: relationship based on self-interest.
52 Silence: harmonious relationship.
56 Brother: mutual trust.
57 Omega: a partnership approaches its end.

---