3. Delta (Oracle de la triade) - An watchful eye
Home / Oracle de la Triade Card Meanings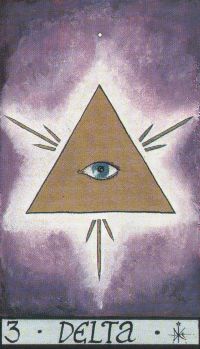 Delta is first and foremost a spiritual card that will help you in any given situation.
It's about intuition, premonition, faith, and trust that will help you in any given situation. Spiritual insight and perception.

Keywords: God. Clairvoyance. The father. Acceptance. Revision. Harmony. Heart. Arteries. Sight. Pineal gland.

Personality and character: Calm, balanced, lucid, intuitive, has personal spiritual beliefs; a young person with the gift of healing.

Love and relationships: Platonic love but feelings are sincere.

Money: Financial stability even if the card is primarily spiritual.

Profession and work situation: Work associated with spirituality and religion. The person has found the right job for him or her.

Personal or spiritual development: Spiritual aspirations are sincere. Practiced religion.

---
Isolation in combination with other cards
1. Alpha: Illumination.
14 Man: Priest or a man pursuing a religious career.
17. Energy: You have healing powers.
29: Elevation: Premonitions in dreams.
37. Light: Clairvoyance.
40 Suffering: Death and funeral.
54 Death: Same as above, death or burial.
---