Oracle de la Triade: Card Meanings
Home / Horoscopes & Fortune Telling / Oracle de la Triade Card Meanings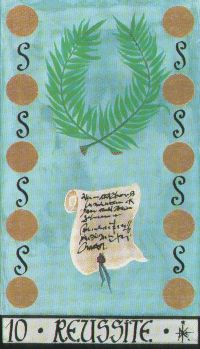 10. Success
General Meaning: The card symbolizes success in all possible areas of life: economic success through work (five coins in gold on each side); award and honor; Success through training or education; diplomas. Ten symbolizes a new beginning.
Personality: A hard-working person at the expense of one owns integrity engages in tasks, career, and job. The person can truly make an effort to achieve his or her goals, but sometimes a little encouragement is needed. Maybe the person is a little too materialistic.
Love: The realization of a relationship for singles. If you have a relationship, the relationship is harmonious; wishes come true.
Money: The economic situation looks really good. You should have trust and confidence now in all transactions and investments. Financial problems of all kinds disappear and a solution emerges.
Profession and work situation:Success is associated with having one's own business, management and commerce. The card is business-friendly. You can sign contracts. You can also make progress; increased profits can be the case. A promotion can be around the corner.
Personal or spiritual development: Success is associated with a sense of fulfillment. You have reached spiritual awareness and consequently developed trust.
Success in combination with other cards:
1 Alpha: A New Beginning.
24 Wealth: Lucky in money and in games.
32 Illusion: Total disappointment.
34 Travel: Success is achieved through an internship or training.
37 Light: Celebrity. Fame.
45 Time: Late but sure success.