Oracle de la Triade: Card Meanings
Home / Horoscopes & Fortune Telling / Oracle de la Triade Card Meanings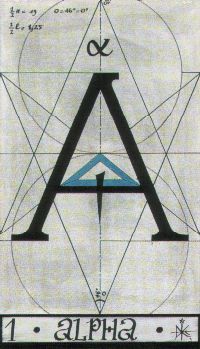 1. Alpha
General Meaning: A new beginning in life, good or bad, is about to start, whether you like it or not. You might initiate this change yourself, but still, you do not know with this card alone if it will bring better or worse results. Other cards can tell you more. But at the same time the truly positive thing about it is that you dare to make the change, to seek renewal, to put effort into new things, and curiosity always creates new lessons, and helps us develop as individuals.
Personality: Alfa is an innocent person, determined, curious and ambitious.
Love: A new relationship begins, but we don't know how this relationship is going to turn out.
Money: The economic situation is going through changes. Some of you might get a new job, or start a new project that you think will earn you money.
Profession and work situation: Expect changes in profession. This card is associated mostly with independent work.
Personal or spiritual development: Someone can help you on a new spiritual quest. A new lesson in life is about to begin and you will learn from it.
Alpha doesn't really form combinations to other cards.